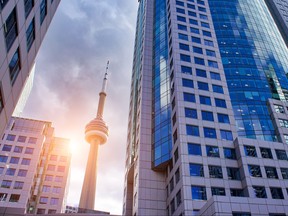 Article content
Has Toronto got its mojo back?
Article content
Yes, according to travel app, KAYAK, which has concluded Toronto tops the list of Canadian cities that people want to travel to right now.
Montreal placed second and Vancouver finished third.
"Toronto has, for a long time, been the most visited destination in Canada — from that perspective, it doesn't come as a surprise," said Andrew Weir, executive vice president of Destination Toronto.
"What I think is really important is the shift we're starting to see: an increase in demand for urban travel, and that's something that's really lagged behind through the two years of the pandemic. For the most part, most travel was outbound from cities.
"People were going to resorts and cottages, those type of travel experiences," he added. "So while a lot of travel did resume at different points in the pandemic, urban travel never resumed to nearly the same degree."
Article content
Weir said during non-pandemic times, Toronto typically welcomed more than 27.5 million visitors annually.
"(A 2019 study showed) Toronto generates $10.3 billion in visitor spending,"
he added.
"In 2020, we saw $7.2 billion of that evaporate. So that declined to basically $3 billion. The second year, 2021, we saw about $5 billion in visitor spending," said Weir, who noted that the pandemic has cost the tourism sector more than $12 billion over two years.
KAYAK, meanwhile, found travel searches for Canada were up 57% between Feb. 15-22  compared to January and there were significant surges to Canadian cities with the greatest increases seen from travellers in Washington (204%), Munich (43%), San Diego (42%), Amsterdam (41%) and Hamburg (40%).
Article content
"But what we've seen is that the first quarter (of 2022) was just completely wiped out (due to the mid-December arrival of the COVID-19 variant Omicron), business that was already booked for the second quarter and beyond, much of it is holding up, is not cancelling yet."
EVENTS RETURNING TO IN-PERSON FORM IN 2022:
— St. Patrick's Parade, March 20
— Doors Open Toronto, May 28- 29
— Pride Toronto Month, all of June, with Pride Festival Weekend, June 24-26 culminating with Pride Parade June 26.
— Luminato Festival Toronto, June 9-19
— TD Salsa in Toronto Festival, June 1- July 31.                                                                               — TD Toronto Jazz Festival, June 24 -July 3
— Taste of Lawrence, July 8-July 10
— Toronto Caribbean Carnival, July 7-Aug. 1
— Taste of the Danforth, Aug. 5-7
— CNE, Aug. 19-Sept. 5
— Toronto International Film Festival, Sept. 8-18